SPEC INDIA provides trustworthy development services not only in India but also at overseas. It is an ISO 9001:2008 certified company located at Ahmedabad, India. SPEC INDIA worked with many global clients and delivered proven solutions to its several fortune 100 clients. Company believes in quality aspects to delivered solutions that it must be highly qualitative and trustworthy. SPEC INDIA provides a best low cost according to industry standards. Company offers you to hire developers or developer team on hourly basis or fixed cost. And SPEC INDIA provides you a customize facilities according to the client requirements and needs. Customization is very important facility to meet the current industry standards.

Microsoft offers you to develop rich internet application by Silverlight technology. It will deliver you highly graphical solutions as well as high audio/video integration facility. Windows mobile application can be build by it. .Net technology also provides you to build cloud base application. .Net framework is widely accepted in development of application framework across the globe.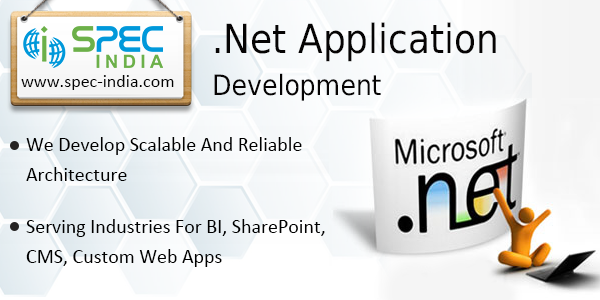 SPEC INDIA has highly skilled portfolio in .Net development. Organization carry decade of experience into different type of desktop application as well as Content management system. Company is compatible in using rich technological tools and framework in development of web applications. Rich technological tools provide a high functionality and greater accessibility over different platforms. SPEC INDIA has experienced resources worked with many projects at global and domestic level. And they are very proficient to work with ASP.NET, Silverlight, WCF, WPF, MOSS, SQL Server and LINQ.

SPEC INDIA has also expertise into technologies like Java base application development, HTML5, Silverlight based rich internet application, database development. Custom software development, legacy application migration, enterprise hand held application, mobile application development in different platform like iOS, android, J2ME, windows. SPEC INDIA delivered proven solutions like mobile sales-force automation solutions, inventory management, and order management to several fortune 100 clients. Company has expertise into software quality testing services, offshore development. For more information you can visit company website www.spec-india.com Feel free to discuss with us at lead@spec-india.com for your business requirement belongs to our portfolio.