As Business Intelligence (BI) gets popular day by day, BI tools and technologies are also spreading around in plenty. On the whole, there are two major categories in which BI tools fall: Open Source BI tools and Commercial BI tools. Both of these categories possess varied options, all of which have pros and cons. So, when an organization is choosing BI as its technology, which tool should it go for? Is quality the criteria or is cost is or is customizable framework the major point to be seen? Such questions are bound to arise. First and foremost, the reason why BI is being opted for is a must to know. Based on that, an analysis can be worked out comparing the different tools that fall under the umbrella of these two significant categories.
Certain criteria have to be taken into account while choosing the type of tools: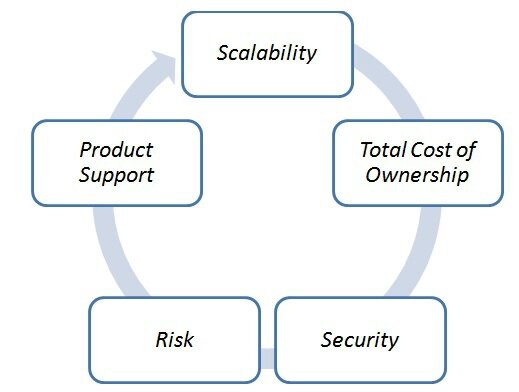 Let us run through the salient features of both these categories that can help you come to a consensus of which option to choose.
Open Source BI tools
The best part of Open source BI tools is it is 'free' and gives its user full freedom to alter the source code as and when necessary. Whatever may be the BI service area, be it Data warehousing, modelling, reporting, OLAP, ETL, open source software is available in all these areas. It, being community driven, there are innovative features which are initiated by the community and not from the R&D by the teams. Simplistic starting, reduced cost of ownership and flexible customization are some of the positive highlights of open source. Whereas, decreased robustness, little delay in instant help and support are a few setbacks which the end user may face. Some of the most popular and raging open source tools are Pentaho, JasperSoft, SpagoBI and more.
Commercial BI tools
Considered to be a complete package for the organization, Commercial BI tools have the total control in the hands of the owner. Of course, they are costlier as compared to open source, since it includes peripheral costs like AMC cost etc. The positive point is that it is owned and managed by a reputed organization and hence chances of misfiring are less and better service and support is guaranteed. The source code is not allowed to be changed and hence there is more stability. The higher end upfront cost is the main hindrance for low budget companies.
SPEC INDIA is executing a variety of BI and Big Data implementations since years and possesses a lot of proficiency with many kinds of BI tools and services. We are global certified partners with Pentaho. Say Hello to us and we would be glad to demonstrate our expertise and help you turn your information into real time analytics.
Read More about "A Single Key to Unlock Business Analytics – Pentaho BI"